Brown Walnut PoppinPod Kolo 1
Brown Walnut PoppinPod Kolo 1
Details
Ever heard of an office with too many conference rooms? We haven't, either! Designed to offer the choice for peace and quiet in the open office, the Generation 1 PoppinPod Kolo 1 office pod phone booth gives your team the opportunity to control their environment. Pop in for a private phone call, focused work, or just to get away from the spoilers from last night's must-see TV. The lighting is dimmable and totally customizable, allowing each user to adjust the color temperature from warm to cool white for an ideal, personalized work environment. Pair with an Upbeat Stool (sold separately) or choose or a
Kolo 1 with Stool
to create a turnkey privacy solution.
Resources
Looking for more information?
View our product downloads or chat with a Furniture expert.
Motion-activated light and fan
Tempered safety glass on front and back
Designed to dampen the sound of conversations for a quiet, more productive environment
Lights are dimmable from 1900 lumens
Color temperature can be controlled from 3000K (warm) to 6000K (cool)
Want a built-in stool? Shop the PoppinPod Kolo 1 with Stool
Black, White, Light Gray, Slate Blue, and Clay are made from powder-coated steel
Gold Oak and Brown Walnut are made from wood-grained laminated steel
White and Gold Oak have White interior accents
Black, Light Gray, Slate Blue, Clay, and Brown Walnut have Black interior accents
Black, White, Light Gray, Slate Blue, and Clay have wood-grained work surfaces
Gold Oak has a White work surface; Brown Walnut has a Black work surface
All PoppinPod colors feature Dark Gray sound-absorbing PET lining
The PoppinPod Collection has achieved Indoor Advantage Gold Certification
Power
UL rated power outlet and 10 ft power cord
Input: 110-240 VAC, 10.1 A, 50-60 Hz
Output: DC 5V, 2.1A
Delivery
White Glove assembly and installation is required

The footprint of the assembled PoppinPod Kolo 1 (with the door closed) is 39.37"W x 39.37"D x 89.21"H.
When the door is opened fully, it adds 33" to the overall depth.
We recommend allowing 4-6" of space between each PoppinPod and 9" above to allow for sufficient air circulation.
Free 120 Day Returns
Returns of PoppinPod products are accepted within 120 days of receipt free of charge, provided that the product is in new condition. To place a return within 120 days of receipt, please contact Poppin via email (returns@poppin.com) with your order number and details on the items you'd like to return.
Please note:
If the product returned is no longer in new condition, the customer will be assessed a minimum 20% refurbishing charge that will be deducted from your refund. Any White Glove delivery and installation fees are non-refundable. All refunds for eligible returns will be processed within 10 business days of receipt.
Damages + Defects

Please inspect shipments for any visible carton damage and note that on the paperwork when signing for the delivery. Once assembled, inspect the product for any damage. If the product arrives damaged, contact us within 5 days to arrange an exchange at no cost to you.
The PoppinPod Kolo 1 has a warranty of 5 years.
Damages that include, but are not limited to, misuse, user-inflicted damage, liquid damage, mold or infestation, are not covered under this warranty.
White Glove installation is required. Additional White Glove fees may apply.
Learn More
The dimension of the outer carton of the PoppinPod Kolo 1 is 91"L x 41.75"W x 32.75"H and the weight is 696 lbs.
Please note: These dimensions/weights also exclude the weight of the pallet.
Light + Fan
Motion-activated light and fan for total comfort
Built-In Power
Charge your phone or laptop with UL rated outlet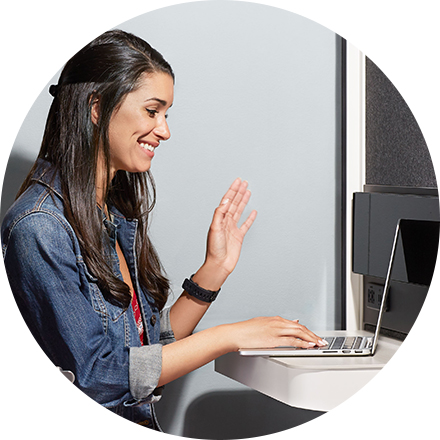 Turnkey Privacy
Designed for focused work or private phone calls